Last updated on January 2nd, 2023 at 05:41 pm
The open-source Roblox game may be played on PCs, smartphones, consoles, and Macs. It's also the most important thing since there are so many different games in a variety of genres to select from.
If you wish to spice up your life with some delights, then you've come to the right place.
The creators of Roblox claim it is an "Inventive Ecosystem," with millions of 3D online games that users can create and enjoy.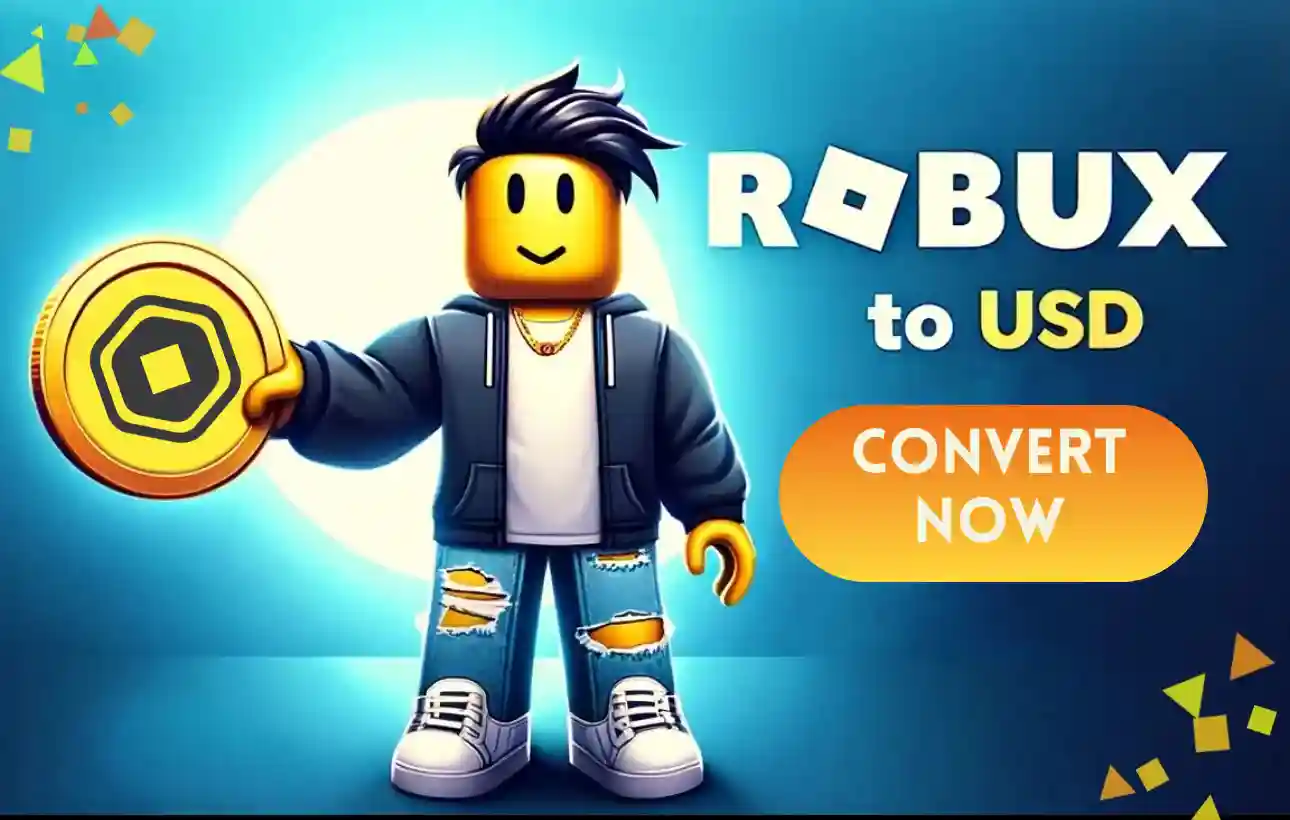 2007 saw the game release, and since then, it has grown to 64 million monthly players with 178 million overall users on the site. Android and iOS versions are available.
Gamers created the site, and it is thus called a gaming site. A second major goal of the platform is to promote socializing; the members of the community are encouraged to make friends with other online gamers.
Gamers may play various games, such as tycoon games, survival games, and simulator games with their friends.
Through Roblox, players may use their imaginations as much as they like, but they also have the opportunity to enjoy an impressive array of games.
There are a variety of games in the Roblox catalog, including famous battle royale types, ranging from murder investigations and jail escapes to treasure-seeking.
---
How to get Shaders in Roblox
Roblox Shaders enable users to add more customizable graphical elements which are not present in the base Roblox.
The provided GUI may be used to regulate its effects. The shader does nothing except improve the looks of your game.
To obtain shaders on Roblox, you must first install Zeal's Shaders. After downloading Zeal's Shaders, launch a Roblox game and choose a shader preset.
The installation of Zeal's Shaders is very simple.
To begin, go to the download page and save it to your computer. Then, to install the shaders, follow the on-screen directions.
Accepting the licensing agreement and installing all components are part of this process. Zeal's Shaders includes many settings, including "Low," "Medium," "High," "Ultra," and "Max."
If you have an old GPU, it is strongly advised that you use the "Low" or "Medium" presets. When you choose a higher setting, the game may slow or even crash. This is due to your graphics card's inability to handle shaders.
#1 Get Zeal's Shaders.
Step 1: Download a copy of Zeal's Shaders.
After that, you'll be ready to begin the installation procedure. Download the apk or the setup of Zeals Shaders from your web browser.
Step 2: Download the file
There will be a "Zeal's Shaders Setup.exe" file on the website. To get Zeal's Shaders, click the "Download" button. Because Zeal's Shaders file is very big, it may take some time to download.
Step 3: Open the file once downloaded
Once the file has been downloaded, double-click it to open it.
When you double-click the file, the "Zeal's Reshade Preset Setup Wizard" will launch. Make sure you close Roblox before beginning the installation procedure. Then, to continue to the following stage, click on "Next."
---
#2 Accept the license agreement.
Step 1: Accept the Agreements
The licensing agreement should display once you click next. You must accept the agreement to proceed with the installation. To approve the licensing agreement, tap on "I accept the agreement."
Step 2: Head on to the Information page
Then, to continue to the following stage, click on "Next." When you click "Next," you'll be sent to the information page. This article contains information on Zeal's Shaders.
Step 3: Choose your preferred Presets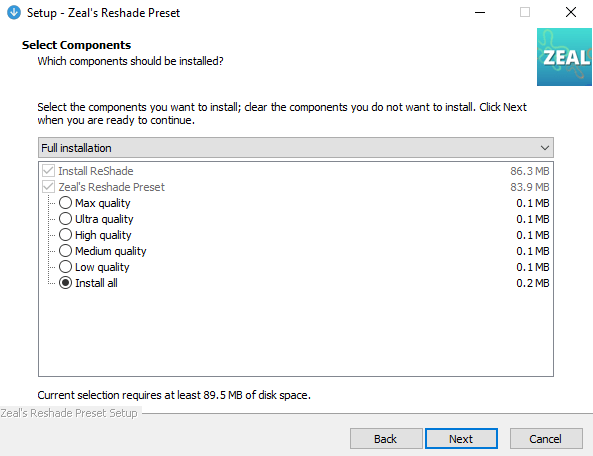 Ray-traced reflections, ambient occlusion, screen-space global lighting, and other features are available in Zeal's Shaders. Ray-traced reflections, on the other hand, are only available if you have a ray-tracing graphics card.
Step 4: Go to the next stage
To continue to the next stage, click "Next."
---
#3 Installing all components is necessary.
Step 1: Head to the component page
After clicking "Next," you will be sent to the "Select Components" page.
Step 2: Choose the elements you wish to download
You must choose the elements which you wish to download on this page. On the contrary, you must remove any components that you do not wish to activate.
Step 3: Install All presets if preferred
To install all the presets, click the "Install all" button.
Step 4: Head on to the next stage
Then, to continue to the following stage, click on "Next." After you've chosen the components, you wish to install, you'll be sent to the "Ready to Install" page. On this page, you'll see the setup type and the components you've chosen.
Step 5: Go back to modify settings if required
If you wish to go back and review or modify any settings, click "Back."
Step 6: Install the Software
Otherwise, click the "Install" button to begin installing Zeal's Shaders for Roblox.
---
#4 Play a game on Roblox
The setup should take a few minutes. You'll get a pop-up notification after it's finished. According to the pop-up notification, "Zeals Shaders have completed installation." You may now launch Roblox."
Step 1: Read the Notification and close the window
To close the pop-up message, click "OK."
Step 2: Complete the Setup
Next, select "Finish" to wrap up the installation process.
Step 3: Run any Roblox game
After installing Zeal's Shaders, you must play a Roblox game. To test if the shader is functioning, you must play a Roblox game.
Step 4: Visit the official Roblox site
To begin, go to Roblox.com and sign in to your account.
Step 5: Select the game you wish to play
Navigate to a random game once you've signed into your account. Then, to begin the game, click the play button.
---
#5 Choose a preset
Step 1: Access the Shaders Menu
After you've launched a game, you'll be asked to hit the "home" key on your keyboard. To access the shaders menu, use the "home" button on your keyboard. You'll get a welcome message after you've entered the shaders menu.
Step 2: Watch the tutorial
Watch the provided tutorial or if you don't want to, then skip the tutorial, by clicking the "Skip Tutorial" button. This answers your question on How to get shaders in Roblox.
After skipping the tutorial, you must choose a Zeal's Shaders preset.
Step 4: To begin, click on the top bar.
After you click on the top bar, you'll get a selection of presets from which to pick. These presets are the previously downloaded components.
Step 5: Choose one preset from the options
There is a total of five presets Low, Medium, High, Ultra, and Max.
---
How to get Shaders in Roblox Mobile
Regrettably, such a shader is not available for mobile platforms such as Android and iOS. These modifications are only available for PCs or laptops. Even though you discover such a mod from other channels, it is plausible that your device contains a virus that is too detrimental. It may also steal or unlawfully disclose information. As a result, you must be aware of all the modifications that are accessible online.
As of now, there is no mention of legit steps or methods on How to get Shaders in Roblox Mobile.
---
How to Uninstall Roblox Shaders
Step 1: Download and Install Uninstaller app

Step 2: Launch the Uninstaller App
Launch Advanced Uninstaller PRO and follow the on-screen instructions.
Step 3: Select the General Tools option.

Step 4: Navigate to General Tools.

Step 5: Launch the Uninstall Programs utility.

Step 6: Navigate to Uninstall Programs.
A selection of the programs that are currently installed on your computer will display. Scroll through the list of programs until you locate Uninstall Zeal's Shaders.
Or just enter "Uninstall Zeal's Shaders" into the Search box.
Step 7: Select the Uninstall option.
A popup will appear asking you to confirm your action. Verify the removal by clicking the Uninstall button. Advanced Uninstaller PRO will remove Zeal's Shaders automatically. Zeal's Shaders will now uninstall.
After uninstalling Uninstall Zeal's Shaders, Advanced Uninstaller PRO will want you to perform a cleaning.
To proceed with the cleaning, click Next. All objects left behind from Uninstall Zeal's Shaders will be identified and you will be asked whether you wish to remove them.
When you use Advanced Uninstaller PRO to remove Uninstall Zeal's Shaders, you can be confident that no Windows registry entries, files, or folders are left on your machine.
---
FAQs
1. How to get Roblox Shaders
One can get Roblox Shaders by downloading software like Zeal Shaders or RoShade. Once they have downloaded the software, they need to install the software as per the given instructions.
If you are not able to figure it out yourself, fret now. Refer to the segment above to find the steps on how to get Shaders on Roblox.
2. How to get Roblox shaders on Mobile
Unfortunately, a shader of this caliber is not available for mobile systems such as Android and iOS currently. Computers or laptops are the only devices that can benefit from these changes.
---
Follow us on Twitter & like our Facebook page for more post-updates.
---
Check out more Roblox Games –
Abhigyan identifies himself as a tech geek, gaming cognoscenti, and also a connoisseur of music. Unidentified and mysterious phenomena never fail to gather his undivided attention. When not reading about bizarre and perplexing entities across the Universe, he can often be found cheering for his favorite teams in Football.