Heya! Check out the Updated Content at the end of this post.
---
Season 2 Day of Reckoning of Call of Duty: Mobile brings in an abundance of new and exclusive content. The entire COD Mobile fraternity is busy grinding to their best to strengthen their operators in the new Pursuit event.
Call of Duty is an iconic name whenever it gets down to FPS games. COD Mobile was unveiled in 2019 and it has almost every aspect of the legendary COD titles. Both Battle Royale and Multiplayer game modes are available on the mobile platform.
The award system that rewards people based on their accomplishments is indeed one of the enjoyable elements of the game. There are several medals in the game and one of them is the Avenger medal. In this article, we will be talking about that in detail.
---
Must Read: How to get Kingslayer Medal in COD Mobile
---
RELATED – How to get Relentless Medal in COD Mobile (Relentless Medal)
---
How to earn Avenger in COD Mobile
The Devs of COD Mobile have struck once again and left the COD Mobile fraternity in shock and awe. Like previous seasons, they didn't release the entire update of Season 2 in one go. They have done so over a period of a couple of weeks.
Also, like in every other season, Season 2 of COD Mobile also came along with some really exciting and intriguing seasonal events. The latest one being the Gold or Nothing Seasonal Event.
In this Seasonal event, players complete a series of tasks and missions to get various rewards like skins, XP, Credits, and more. What's interesting is, the main prize of the Gold or Nothing event is a new melee weapon, the Shovel.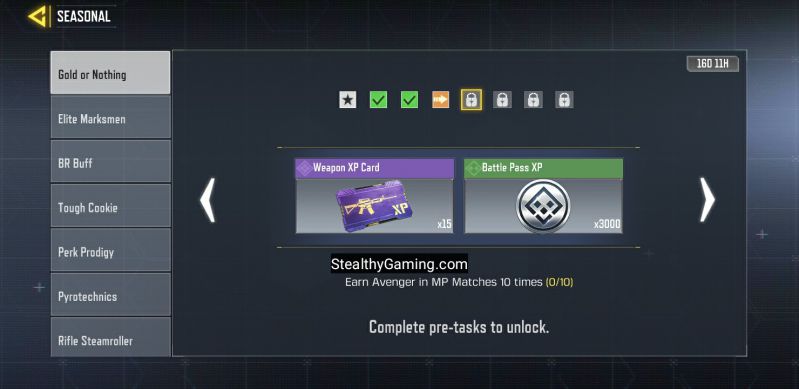 One of those missions requires players to get the Avenger Medal in MP matches 10 times. The avenger medal can indeed be collected by eliminating an opponent who killed a team member from your team. There is no structured way to obtain the medal. It has been one of the simplest medals to get in the match.
However, according to us, the most efficient way to go about collecting the avenger medal in COD Mobile would be to choose a small map like Shipment, Nuketown Russia.
Also, modes like Domination and Hardpoint will help in getting the Avenger medal faster as you can acquire a lot of kills in these modes. Thereby increasing your chances of getting an avenger medal in the match.
Now you know how to get the Avenger medal, go out there and get on grinding to unlock the all-new Shovel melee weapon in Season 2 of COD Mobile.
---
(Update – June 3)
Well, Ladies and Gentlemen, the very fantastic developers of COD Mobile have brought us new Seasonal Events. And you know, what does that mean? Yes, we can now earn new perks, new weapons, character skins, weapons skins, and whatnot.
Similarly, a new seasonal event has arrived. It is called Gold or Nothing. Can you guess what you will be getting with this one?
Well, COD Mobile users can earn a Gold-skin or Kilo the marksman rifle in COD Mobile. One has to complete around 7 events to complete the entire event and take the new Kilo home.
One of the events includes a mission to earn Avenger Medal in MP matches. As you already know, MP stands for Multiplayer matchmaking.
The mission is easy to perform. You can simply follow our guide to read more about how to earn the Avenger Medal in MP Matches.
If you need any kind of assistance, make sure to reach us using the email on the Contacts page.
---
Subscribe to our Youtube Channel. Follow us on Twitter & like our Facebook page for more post-updates
---
Check out GUNSMITH LOADOUTS here –
Abhigyan identifies himself as a tech geek, gaming cognoscenti, and also a connoisseur of music. Unidentified and mysterious phenomena never fail to gather his undivided attention. When not reading about bizarre and perplexing entities across the Universe, he can often be found cheering for his favorite teams in Football.