Last updated on March 10th, 2021 at 04:22 pm
Call to Duty Mobile seems to be on a roll since its release back in October 2019. The game has received a great deal of positivity and therefore has become one of the most played and installed FPS mobile games in recent days
The key catalysts behind COD Mobile's massive rise and positive growth have always been the distinguishing features of the game, including the enormous arsenal of weapons, diverse and enjoyable game modes, and the large variety of attachments to choose from in the gunsmith feature
Earlier in the series, we have mentioned gunsmith loadouts like "No Recoil' KN-44, 'No Recoil' HG-40′, 'Fast ADS' Kilo, and a lot more. Make sure to check out all the loadouts here.
COD Mobile iFerg DR-H Gunsmith Loadout:
With more than 1.7 million subscribers, iFerg has become to be quite a famous YouTuber. He played numerous first-person shooter games across multiple platforms. He is known for his ridiculous skills in COD Mobile and his fans and subscribers are often eagerly anticipating his streams and weapon rankings and lucky draws on YouTube
That being said, we should also prompt you that no weapon is "Perfect". The effectiveness of the weapon depends primarily on the player. For instance, a player who enjoys taking an interest in the relentless short proximity fight, won't find a long-range weapon supportive and the reverse way around.
iFerg DR-H Attachments: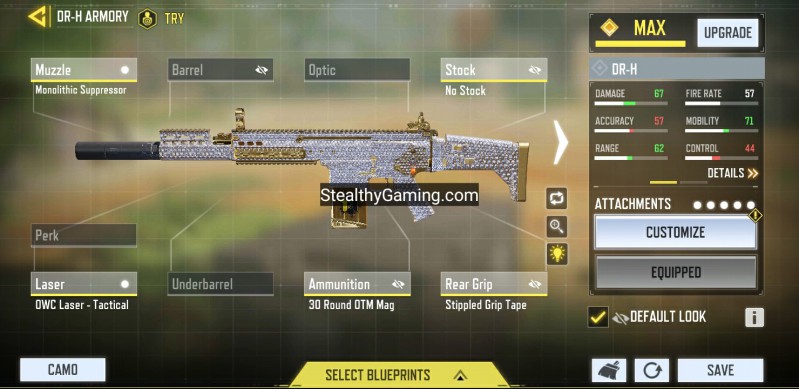 Muzzle – Monolithic Suppressor
Barrel – no change
Optic – no change
Stock – No Stock
Perk – no change
Laser – OWC Laser – Tactical
Underbarrel – no change
Ammunition – 30 Round OTM Mag
Rear Grip – Stippled Grip Tape
The attachments suggested in the previous section make this Assault Rifle a force to be reckoned with in Long Range Maps because of its extremely high damage leading. The above-mentioned loadout is primarily aimed to increase the damage, mobility, and range of the DR-H at the cost of accuracy and control.
---
Check out the weapon-stats of the base weapon for comparison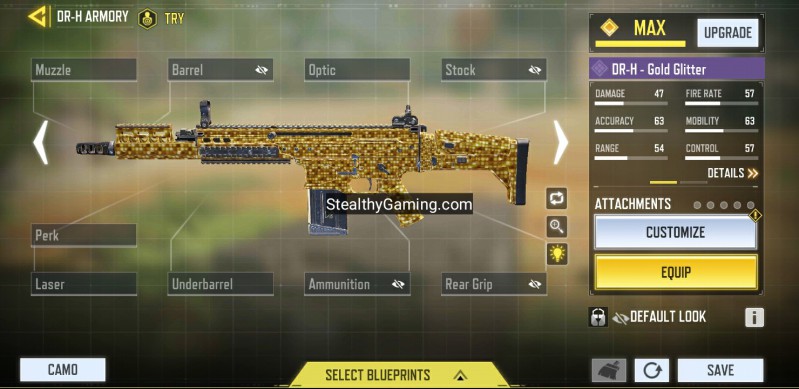 The DR-H is a ghastly weapon that destroys everything in its path. The sheer destructive force of the DR-H is what makes the weapon so preferable over other weapons of the same class. The above-mentioned attachments help further enhance the performance of the beastly DR-H.
Ferg really has outdone himself with the DR-H Gunsmith Build. It is a really competent weapon and you guys should really go ahead and try it out.
---
Subscribe to our Youtube Channel. Follow us on Twitter & like our Facebook page for more post-updates
---
Check out GUNSMITH LOADOUTS here –
Abhigyan identifies himself as a tech geek, gaming cognoscenti, and also a connoisseur of music. Unidentified and mysterious phenomena never fail to gather his undivided attention. When not reading about bizarre and perplexing entities across the Universe, he can often be found cheering for his favorite teams in Football.