Winter has come. Season 13 of Call to Duty Mobile has made its way to the game. Players all across the globe are grinding more than ever to unlock and get their hands on all the rewards which Season 13 of Call of Duty Mobile has to offer.
As the gunsmith feature was rolled out, and as new weapons were added every season, players constantly felt that the choice of 5 best attachments out of more than 50 to upgrade their preferred weapons had been difficult and tedious. That is where our group comes in.
We have been actively researching on creating 'purpose-oriented' Gunsmith loadouts for a weapon. Earlier in this series, we have mentioned the loadouts like "No Recoil' KN-44, 'Fast ADS' DR-H, 'Fast ADS' HG-40, and a lot more. Make sure to check all loadouts here.
---
MUST-READ: COD Mobile: New Voice-Overs to Arrive in Next Season Update
---
COD Mobile Type 25 Gunsmith Loadout:
With weapons being buffed and nerfed with every new season, it is always wise to keep all weapons upgraded to the full. Also, what's more, important is that you form the arm according to your game style.
The productivity of the gun is mainly a player attribute. For instance, a player who loves an untiring battle nearby would not find a long-range weapon satisfactory and vice versa
So, we specifically stress the players affect our loadouts and weapons. However, at the end of the day, you will split the various systems and arms to find the weapons and assemble the ones that are better suited to the game.
Type 25 High Mobility Gunsmith Loadout
The Type 25 is considered to be one of the fastest killing assault rifles in the whole game. During its prime time, many a professional player had recommended the Type 25 as a go-to weapon in the game.
Fast forward a few seasons, it still is a competitive weapon in the latest season. So, today we will be enhancing a weapon that is already a beast.
---
Best Type 25 Attachments: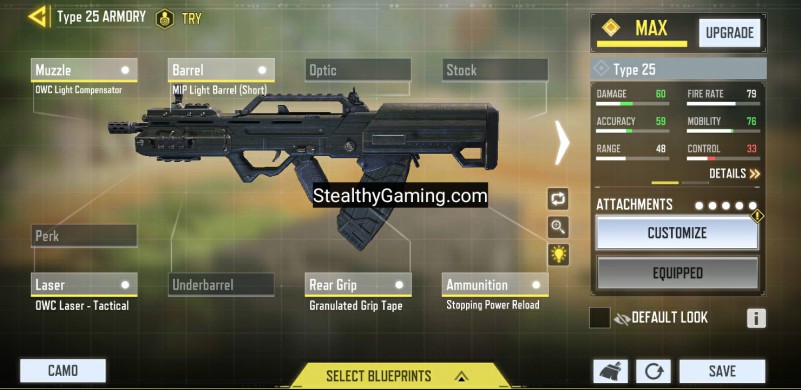 Muzzle – OWC Light Compensator
Barrel – MIP Light Barrel (Short)
Optic – no change
Stock – no change
Perk – no change
Laser – OWC Laser -Tactical
Underbarrel – no change
Ammunition – Stopping Power Reload
Rear grip – Granulated Grip Tape
Check out the stats for the Base Variant of the weapon for comparison: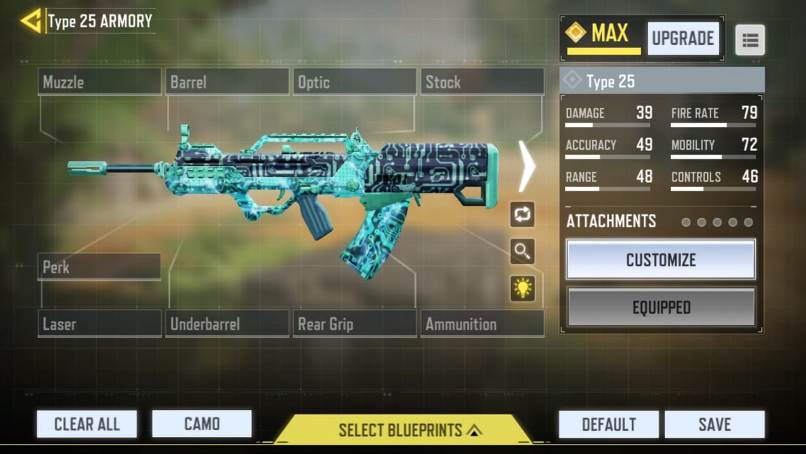 How to use Type 25 High Mobility Loadout:
This particular build of the Type 25 features the Stopping Power Reload Ammunition which increases the damage of the weapon, making it deadlier than what it already was. It is preferred over the other weapons of its class because of its high fire rate, accuracy, and mobility.
---
Also Read: COD Mobile Razorback Gunsmith Loadout
---
The Type 25 High Mobility loadout is best suited for players who have an aggressive style of gaming. It will do especially well in modes like Hardpoint, Domination. It is suitable for maps like Crash, Firing Range, Summit.
This loadout is like keeping the Type 25 on steroids. So, be sure to try it out. It might even help you gather a couple of MVPs.
Subscribe to our Youtube Channel. Follow us on Twitter & join our Telegram channel for more post-updates.
---
Abhigyan identifies himself as a tech geek, gaming cognoscenti, and also a connoisseur of music. Unidentified and mysterious phenomena never fail to gather his undivided attention. When not reading about bizarre and perplexing entities across the Universe, he can often be found cheering for his favorite teams in Football.