Apex Legends Mobile had become one of the most awaited games even amongst the whole of the mobile games industry. The game introduced a fresh interpretation to Battle Royale and also succeeded in bringing along a fresh setup, totally new firearms, characters, and gaming fundamentals.
Apex Legends Mobile's beta update has had a lot of people excited. For the time being, it seems that the game has only been released in India and the Philippines. But, given the game's reception and popularity following its initial release, it won't be surprising if we see an official global launch soon.
In this article, we will be talking about certain items and how you can go about unlocking them to better customize your personal Legend. So, without much ado, let's jump in.
---
TRENDING:
---
How to get Heirloom Melee for free in Apex Legends Mobile
Apex Legends Mobile has only been around a couple of weeks, yet, players have started obsessing over character and weapon skins and other such cosmetic rewards. Apex Legends has a myriad of magnificent unlockable material and some of the extremely rare item types which players generally are after are Heirlooms.
Heirloom melee weapons are a long-coveted cosmetic item type in Apex Legends. Even though Heirlooms don't really boost damage, they do offer a Legend with a specialized melee weapon and a bunch of new action visuals when played without a firearm.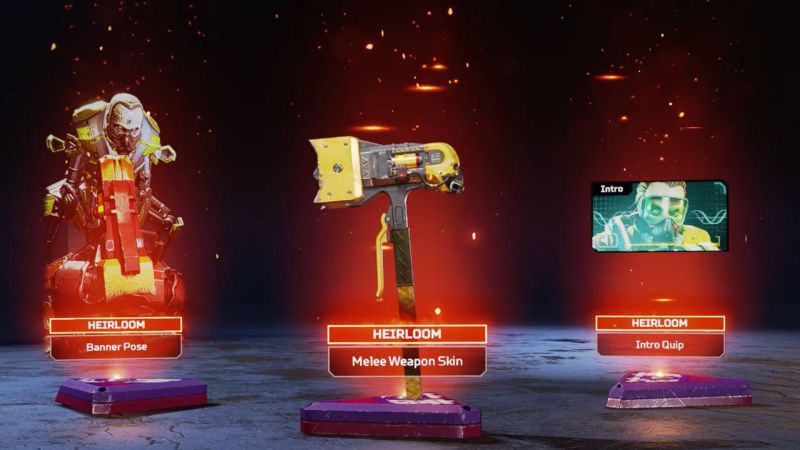 If you guys were wondering how you could get your hands on one such heirloom, we got you covered. However, we have to warn you that it is quite a difficult and tedious process if you want it for free and would have to be quite patient for it.
Heirlooms can only be obtained through luck. Yes, there is no other way of getting them. Apex Legends Mobile wanted the heirlooms to have their own level of significance and rarity. What better way than deeming luck as the only method of obtaining one?
Heirlooms can be obtained by opening a lot of Apex Crates. If you want the heirloom for free, then you have to keep playing to level up. This is because you will be awarded free Apex Crates upon leveling up. The frequency of getting a crate decrease as you level up.
So, you just have to patient and keep opening apex crates. Since the probability of getting an Heirloom is 1% it means that for every 500 crates you open, you have the chance of getting one heirloom set.
So, go out there and start grinding to level up faster and get a ton of apex crates to increase your chances of getting an Heirloom Set.
Follow us on Twitter & like our Facebook page for more post-updates
---
Apex Legends Mobile Guide –
Abhigyan identifies himself as a tech geek, gaming cognoscenti, and also a connoisseur of music. Unidentified and mysterious phenomena never fail to gather his undivided attention. When not reading about bizarre and perplexing entities across the Universe, he can often be found cheering for his favorite teams in Football.