Ever since the ban on the popular mobile game PUBG Mobile in India. Gamers sought to fill the hole in their hearts with another Battle Royale game. Fortunately, Activision's Call of Duty: Mobile presented that same rush and adrenaline-filled experience with the First-person and Third-person shooter perspective in the mobile devices.
Over the period of one year, the game has evolved to become one of the most popular and downloaded games on the play store. The realistic graphics, fast-paced gameplay have really appealed to the player across the world.
The Gunsmith Feature of Call of Duty Mobile is what makes it unique. It offers players the ability to adjust, build, and display their weapons and also adjust the ADS Movement speeds. Learn more about ADS Movement speed and its advantages in this article.
---
MUST-READ: What is ADS Bullet Spread Accuracy | Importance & Benefits
---
What is Hip Fire Bullet Spread in COD Mobile?
Knowing the maps and surroundings, coordinating with fellow teammates, and choosing the best attachments for your weapon is crucial to winning matches.
Ever since the introduction of an array of attachments in the gunsmith feature, it has become almost impossible to hit your targets at the aimed areas if you don't equip any attachment.
For example, attachments like the Suppressors might seem and sound cool. But, in reality, they sometimes don't bring out much to the table. In fact, the Tactical Suppressor decreases both ADS Speeds and ADS Movement speed.
Hip Fire accuracy is how accurate and tight your bullet spread is when you not shooting without scoping in. Hip firing is the fastest way to fire a weapon but lacks accuracy. If you need to get off a quick shot or turn a corner into an enemy that's out of melee range, hip-firing a weapon, particularly one that excels at close range, is an ideal strategy to consider.
---
MUST-READ: What is Flinch Stability in COD Mobile | Importance, Benefits
---
How to Increase Hip Fire Accuracy?
For fairly inexperienced players, it is advisable to start by trying out numerous attachments and loadouts and settle for the one that better serves their gaming style.
Each attachment has its own benefits and drawbacks and you need to test all of them out in training or against AI to truly decide which attachment is appropriate to you. Thus, you will get an excellent idea of which attachment functions and which attachment does not work for you.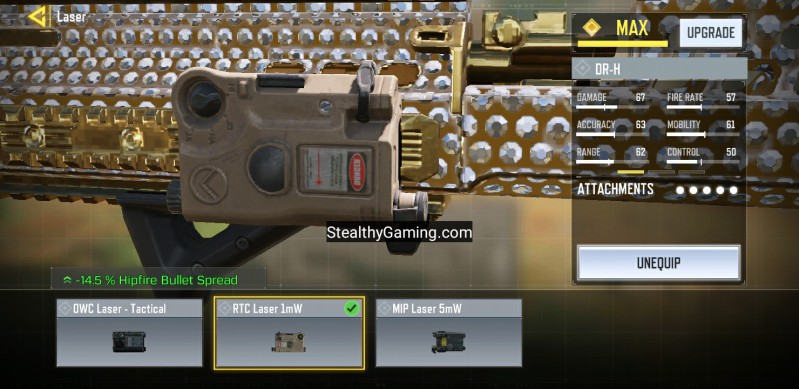 The Hip fire bullet spread is dependent on certain crucial weapon attachments. To increase Hip Fire accuracy, you need the appropriate Laser or Underbarrel attachments. So, using attachments like the MIP Laser 5Mw, and RTC Laser 1mW can help to reduce the Hip Fire bullet spread.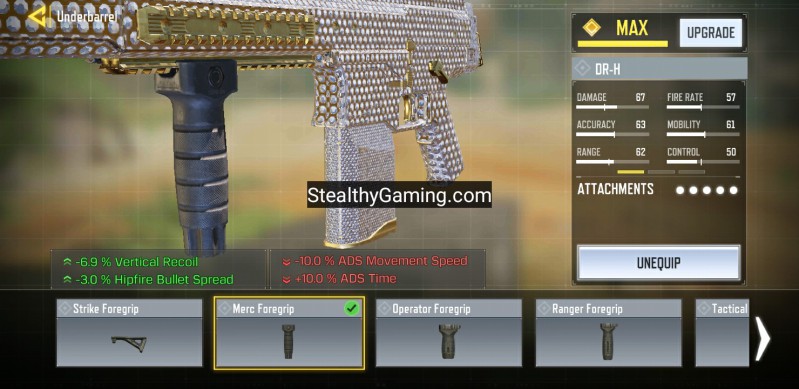 Also, attachments like the Merc Foregrip boost the Hip fire accuracy. By equipping this attachment, players can have better hip-fire accuracy in-game.
The proper selection of attachments is very important. For example, players who like to engage a lot in close-range 1v1 combats should go for attachments like Laser, Underbarrel. These attachments can be used to increase hip-fire accuracy and ADS speeds (Mobility).
Call of Duty Mobile has a huge arsenal of weapons. Use the gunsmith feature to the full and do not doubt the use of any aspect of the attachments, whether Laser Sight, Optic, Barrel, Muzzle, Rear grip, Stock & Perks.
---
MUST-READ: What is Sprint-to-Fire in COD Mobile | Importance & Benefits
---
So, experiment with all of them and take account of the flinch stability, accuracy, mobility, etc and settle for the weapon which you find to be most comfortable to use.
Conclusion:
With detailed knowledge and fundamental mechanics of the game, the probability of succeeding on the battlefield would be significantly improved. The right accessories and the right weapons selection help players to make the game more tactical and satisfying and to win a lot during the game.
Subscribe to our Youtube Channel. Follow us on Twitter & join our Telegram channel for more post-updates.
---
Check out GUNSMITH LOADOUTS here –
Abhigyan identifies himself as a tech geek, gaming cognoscenti, and also a connoisseur of music. Unidentified and mysterious phenomena never fail to gather his undivided attention. When not reading about bizarre and perplexing entities across the Universe, he can often be found cheering for his favorite teams in Football.