Roblox is a gaming platform and shop where users may purchase and play games. Roblox is a platform where people may play games created by other creators, rather than a game itself.
Roblox is distinct from other gaming platforms, especially shops like Steam, in that all of its games are created by its players.
The excitement on Roblox originates not just from playing games, but also from creating them. These games are created by Roblox players, not the Roblox Corporation. As per the platform's official web page, upwards of 20 million games have been produced by its users.
On Roblox, anybody can create games. The platform enables young people to develop their own game concepts. It does this by offering a set of game creation tools that almost anybody, even children, can learn to use.
Players may play a variety of games with their friends, like tycoon games, survival games, and simulator games with their friends.
Roblox allows users to be as creative as they want while also providing a wide range of games to play. Roblox has a wide range of games, including the famous battle royale type. ranging from murder investigations and jail escapes to treasure-seeking.
---
ALSO READ: 
---
How to Layer Hair on Roblox
One of the most enjoyable aspects of Roblox is the ability to customise your avatar. In fact, it is so prominent that the whole economy of the game depends on it.
Even so, if you're somebody who prefers to modify up your look regularly, having to buy Robux can get crazy expensive over time.
If you're simply wanting to freshen up your hairstyle, there's a method to utilize two hair pieces at the same time to create your own appearance.
Roblox is a game in which creativity is encouraged. Nothing says "ingenuity " like having a one-of-a-kind look.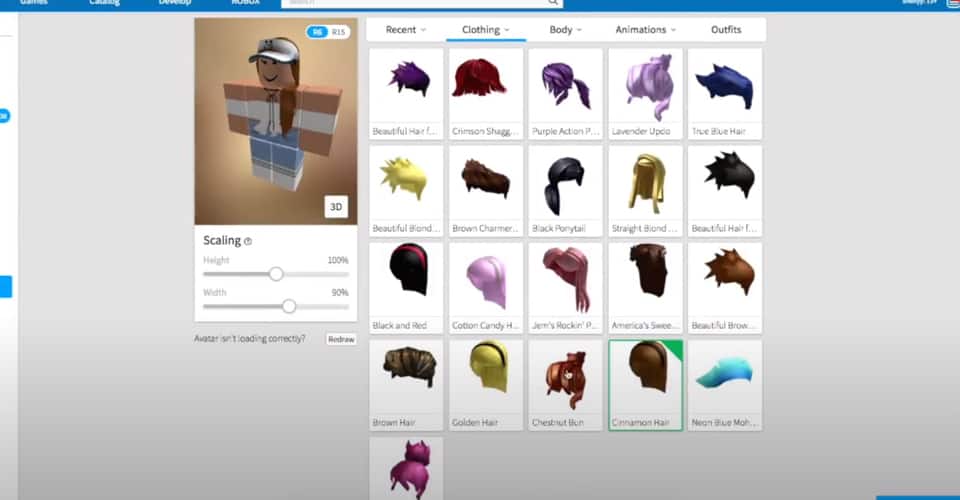 For those who are unaware, there are many things you may modify about your Roblox character.
You can alter your clothing, eyes, hair, color, mouth, and pretty much anything else. What's fascinating is that you may wear one or many hairstyles at the same time.
It is very simple to do so, and although most people believe that this isn't meant to be in the game, it is.
To wear two distinct hair cosmetics at the same time in Roblox, you must have at least two separate hair cosmetics accessible.
You can equip two hairs via the advanced settings options in the Avatar menu if you have more than one hair piece.
If you wish to wear more than one hair in Roblox, follow these steps:
Step 1: Open Roblox and sign in to your account.
To alter your hair, go to the Roblox website's Avatar menu. It is accessible by accessing the drop-down menu in the top left.
Hover over the Clothing tab, then choose the Hair option.
Step 2: Go to the Avatar Editor

Step 3: Choose one of your preferred hairstyles.
At first, it may seem that you can only equip one hair item at a time, since just clicking on a new one would un-equip the previous one.
To equip a second hair piece, head to the Advanced setting, which can be located at the bottom right of your available hair choices.
Step 4: Go to your inventory

Step 5: Choose your hairstyles.
A menu will appear, prompting you to input an item's Asset ID. While you may enter numerous times, you can only equip two hairs at a time.
Step 6: Select one that appeals to you & click on it.

Step 7: Copy the ID from the address bar link.
To discover these Asset IDs, go to the Avatar Shop's products page. Once there, the ID will be shown in the page's address bar, between "/catalog/" and the item's name.
The item code for "roblox.com/catalog/11775582/Beautiful-Black-hair" would be 11775582.
Step 8: Return to Avatar > Hair.

Step 9: Scroll down and choose "Advanced."

Step 10: Copy the ID

Step 11: Paste it into the second asset ID.

Step 12: You may fill in as many blank fields as you like.
When you initially join up with Roblox, you'll be given six distinct hairstyle choices. In addition, six more are available for free in the Avatar Shop, for a total of 12.
---
How to Layer Hair on Roblox Mobile
Step 1: Download Google Chrome for Android/IOS

Step 2: Visit the official Roblox Website

Step 3: Log into your Roblox account

Step 4: Go to the settings of the browser

Step 5: Switch to Desktop Site

Step 6: Hold and tap on your other hair

Step 7: Open it in a new tab

Step 8: Check out the URL and copy the ID Code.
The item code for "roblox.com/catalog/1170152/Beautiful-Brown-hair" would be 1170152.
Select the "Advanced" option, and a new pop-up window will appear on the screen.
Step 9: Paste the copied ID in a slot

Step 10: Click on "Save."
---
What Is the Roblox Hair Customization Method?
The customisation is dependent on the environment on which you are running Roblox. In the Roblox game, there are many stages to creating unique hair. Most PC gamers choose to utilise the Blender programme.
Conversely, if you are using a mobile device, the method of customising Hair is somewhat different and more difficult to modify when compared to PC customization.
Regrettably, users cannot design a hairstyle on mobile devices, however users may equip several hairstyles for their Avatar in the game.
Equipping several hairs at once is a fantastic way to personalise your Roblox character. Furthermore, it introduces a slew of new styles – 79 in all, with the existing default choices. And you can do all of them without spending any of your hard-earned Robux.
---
Follow us on Twitter & like our Facebook page for more post-updates.
---
Check out more Roblox Games –
Abhigyan identifies himself as a tech geek, gaming cognoscenti, and also a connoisseur of music. Unidentified and mysterious phenomena never fail to gather his undivided attention. When not reading about bizarre and perplexing entities across the Universe, he can often be found cheering for his favorite teams in Football.