The Call of Duty Mobile Season One launched at the end of January 2021 and already the game has taken huge steps forward towards becoming the Number One FPS Mobile Game in the world. With so much new content being offered regularly to the players, the game is definitely succeeding in creating and maintaining a loyal fanbase.
Since the launch of the new season, there has been a lot of new content uploaded in the game which the players are absolutely loving. The recent content which was made available to the players was the New Marksman Rifle SKS. A lot of new content is supposed to be out before the current season comes to an end.
Our team has also been researching on creating Gunsmith Loadouts that can be very useful to the players who find it difficult to understand how to select the best attachments for selected weapons. Earlier in the series, we have discussed loadouts like 'No Recoil' KN-44, 'Fast ADS' DR-H, 'Fast ADS' HG-40, and a lot more. Make sure to check out all other loadouts here.
Today, in this article we will discuss how to get seasonal rewards from seasonal events by completing certain tasks that are required in achieving the rewards.
---
How to do MSMC with Recommended Equipment Task:
In the seasonal events, there are a lot of rewards that can be achieved by the players by completing the required tasks mentioned in the seasonal events section. Today, we will discuss the Run & Gun event section where the rewards are the GTS – Kitsune and Battle Pass XP, which can be achieved by completing several challenges in that event section.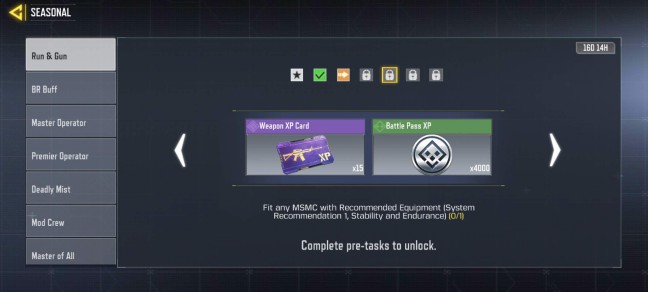 When you open the Run & Gun event section, you will come across a series of challenges that you are required to complete before obtaining the rewards. One of the challenges involves "Fit any MSMC with Recommended Equipment (System Recommendation 1, Stability and Endurance). It is the fourth challenge in the list of challenges and to unlock this task need to complete the preceding tasks.
To complete this task, you should have unlocked the MSMC SMG, which can be unlocked after reaching Level 45. Furthermore, the task requires to equip the recommended attachments that aid in Stability and Endurance. You can do this by going to the Gunsmith Loadout of MSMC SMG and click on the highlighted 'BULB' icon. This icon will then lead you to a Recommended Attachments section from which you need to equip the Stability and Endurance System Recommendation Attachment.
After equipping the above-mentioned attachments, the task in the Run & Gun seasonal event section will be completed and you will earn 15 Weapon XP cards and Battle Pass XP worth x4000.
Keep in mind that you need to complete the previous tasks to reach the MSMC Recommended Equipment Task. Hope you found this helpful in understanding how to complete seasonal event tasks. We will bring to you more interesting and helpful articles.
Subscribe to our Youtube Channel. Follow us on Twitter & join our Telegram channel for more post-updates
---
Check out GUNSMITH LOADOUTS here –