Upon its premiere, Call to Duty Mobile has now become tremendously popular. Mostly because of its massive arsenal. The myriad of firearms the game has developed has always enthralled the call of duty mobile players. Call of Duty Mobile did not fail to deliver with Season 1 New Order.
Ever since the implementation of the gunsmith feature, players have sometimes found themselves perplexed in struggling to choose the best 5 attachments for their preferred weapons out of a choice of over 50 attachments.
That is where our team walks in. Earlier in the series, we have mentioned gunsmith loadouts like "No Recoil' KN-44, 'No Recoil' HG-40′, 'Fast ADS' Kilo, and a lot more. Make sure to check out all the loadouts here.
---

---
How to get Baseball Bat in COD Mobile
Call of Duty Mobile has kept the likes and dislikes of almost every player out there in consideration while deciding the weapons inventory for the game. Some of the players like using melee weapons. These players really like to get their hands dirty on the Battlefield.
Well, Activision surely didn't ignore them. COD Mobile has got a variety of weapons in the melee section to cater to the needs of such players who like to engage in close-quarters.
One of those melee weapons is the Baseball bat. It is a very deadly weapon. It has the same range and mobility as the knife but has a much higher damage value. The baseball bat has been released numerous times via monthly login rewards, seasonal rewards, featured event rewards, so on and so forth.
So, chances are you might be already having a baseball bat in your inventory. If not, well you can always try the current lucky draw – Social Disruptor Draw. It is giving away an epic skin baseball bat. You can always wait for Activision to bring the bat again as a freebie in one of the upcoming seasons.
---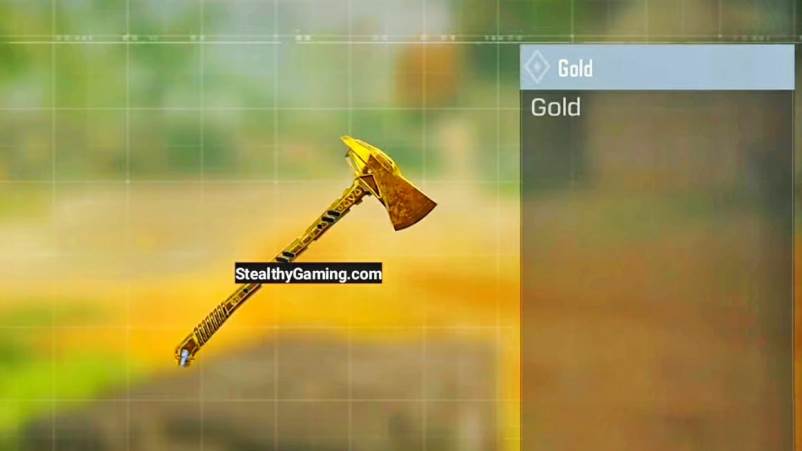 Also Read: How to get Gold Axe in Call of Duty Mobile
---
How to unlock Gold Bat in COD Mobile –
On the off-chance that you do already have a bat, we will be telling you how to unlock the Gold Completionist camo for the Baseball bat in COD Mobile.
The Gold skin for the Baseball Bat can't be obtained without grinding. As to acquire the gold skin for any firearm one would need to unlock all the camos for the weapon and to do that a lot of grinding is required.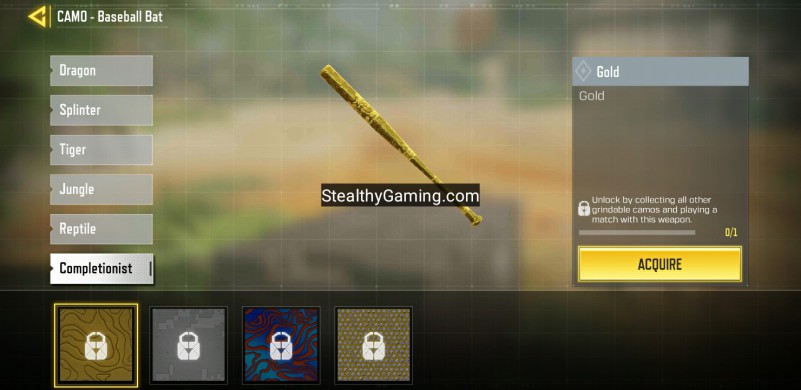 Nevertheless, to avoid any delays unnecessarily, we have come up with the most effective way to go about obtaining the camos so you can get the gold skin quickly.
Firstly, you need to make sure that your Baseball bat is upgraded to the max. If not, then you should first do that as only then, will all the camos be available for you to unlock
To do that you can easily utilize your Weapon XP cards or play games and kill a bunch of adversaries. It is advisable to use a Double Weapon XP card before matching if you prefer the second option so that you get double the XP that will help to level your weapon faster.
After upgrading your Baseball Bat to the limit, you ought to finish all the missions of the camos available to unlock them. Like, for instance, killing enemies by crouching, killing enemies without dying, etc. For this part, we recommend trying to play modes such as Hardpoint and Domination in maps like Shipment 1944, Rust, Nuketown. These short maps allow you to kill more quickly.
After having done all the requisite missions you will finally unlock the Gold Completionist camo. Be sure to show your friends and enemies your Baseball Bat with Midas's touch.
Follow us on Twitter & join our Telegram channel for more post-updates.
---
Check out GUNSMITH LOADOUTS here –
Abhigyan identifies himself as a tech geek, gaming cognoscenti, and also a connoisseur of music. Unidentified and mysterious phenomena never fail to gather his undivided attention. When not reading about bizarre and perplexing entities across the Universe, he can often be found cheering for his favorite teams in Football.