Season 1 New Order of COD Mobile is live and running now. Players from all across the globe are swarming in to see what's in store for them. Season 1 New Order of COD Mobile has brought with it a ton of characters, weapons, maps, modes, and much more.
With the advent of yet another new season, there have been additions to the weapons arsenal of COD Mobile. Having such a huge arsenal can become overwhelming sometimes. That is where our team of dedicated researchers comes in.
We have dedicated quite a lot of time to try out various attachments to come up with some of the most optimized weapon builds. In our recent posts, we have mentioned the best purpose-oriented weapon build like Long-range 'No-recoil' KN-44, High Mobility RUS, 'No-recoil' DR-H, and a lot more. Make sure to check all loadouts here
---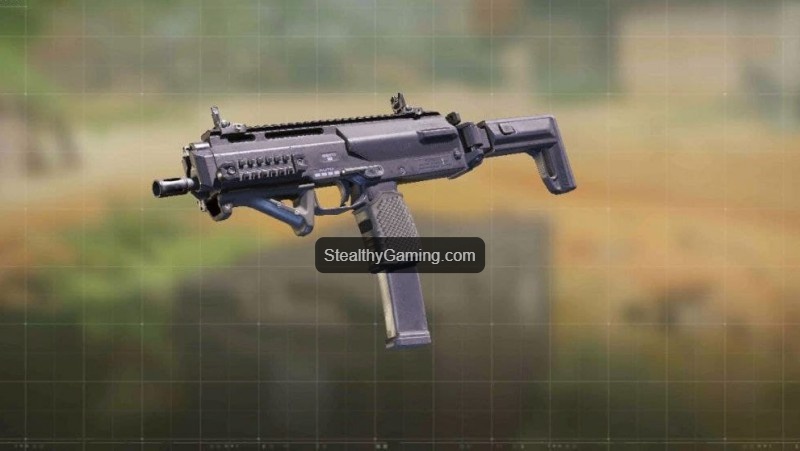 Also Read: COD Mobile iFerg QXR Gunsmith Loadout
---
COD Mobile Chicom Gunsmith Loadout
The Chicom submachine gun is unlocked at level 130. It is a 3-round burst with a high cyclic fire rate to allows for fast bursts.
This weapon overcomes some of the faults found with SMGs, giving more accuracy and power stability at range. It also fairs great at close range due to the fast fire rate.
The productivity of the gun is mainly a player attribute. For instance, a player who loves an untiring battle nearby would not find a long-range weapon satisfactory and vice versa
So, we specifically stress the players affect our loadouts and weapons. However, at the end of the day, you will split the various systems and arms to find the weapons and assemble the ones that are better suited to the game.
---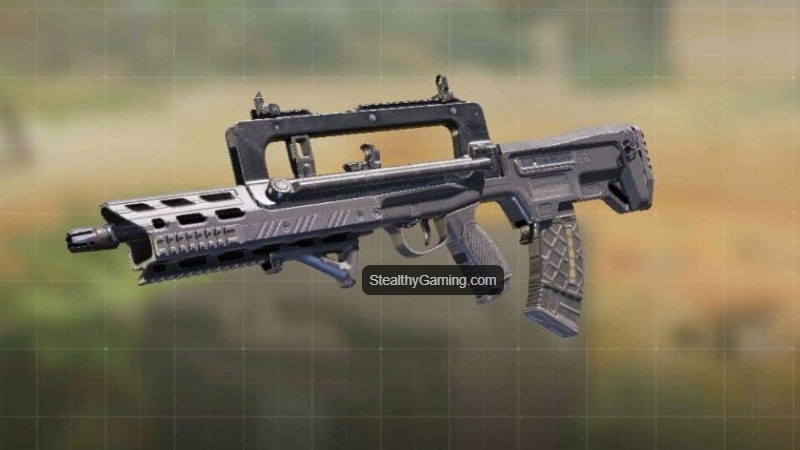 Also Read: COD Mobile FR 556 Gunsmith Loadout
---
Chicom High Mobility Gunsmith Loadout:
Today we have brought for you guys a very competent Chicom loadout that can shred enemies in a flash. We have primarily aimed at increasing the mobility and range of the weapon allowing for both close and mid-range combat.
Best Chicom Attachments: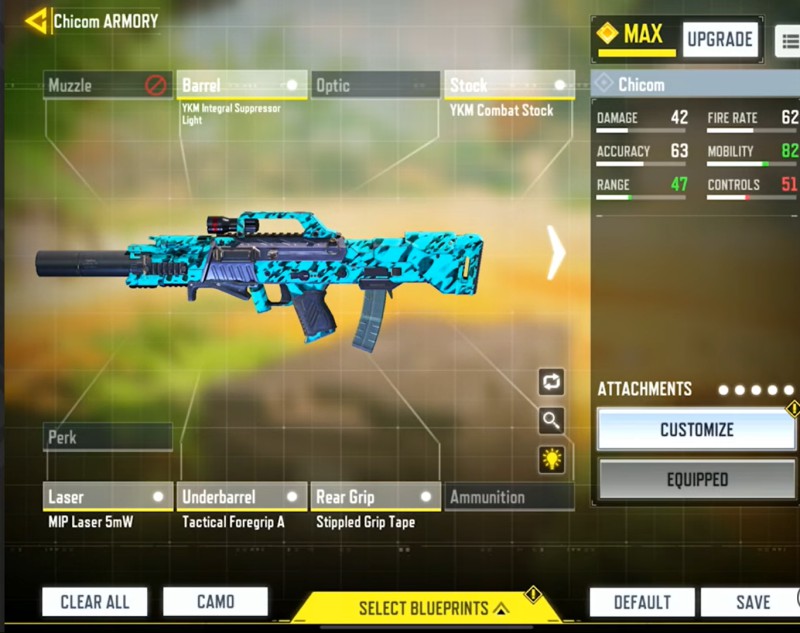 Muzzle – no change
Barrel – YKM Integral Suppressor Light
Optic – no change
Stock – YKM Combat Stock
Perk – no change
Laser – OWC Laser -Tactical
Underbarrel – Tactical Foregrip A
Ammunition – no change
Rear grip – Stippled Grip Tape
---
Check out the stats for the Base Variant of the weapon for comparison: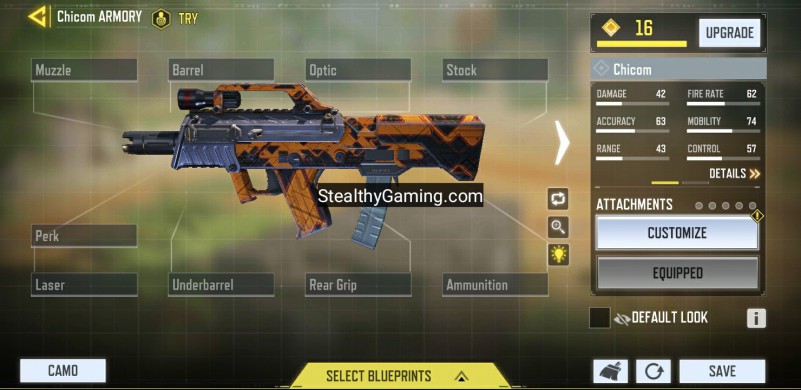 ---
How to use Chicom 'High Mobility' Loadout
The burst firing mode of the Chicom can sometimes become difficult to handle. However, we have tried to eliminate that in this loadout by increasing the overall mobility and the range for the weapon.
This High Mobility Chicom build will prove more beneficial in Close combat and the increased range will also help you take out enemies at mid-range. So, in a nutshell, it seems like a very efficient weapon.
---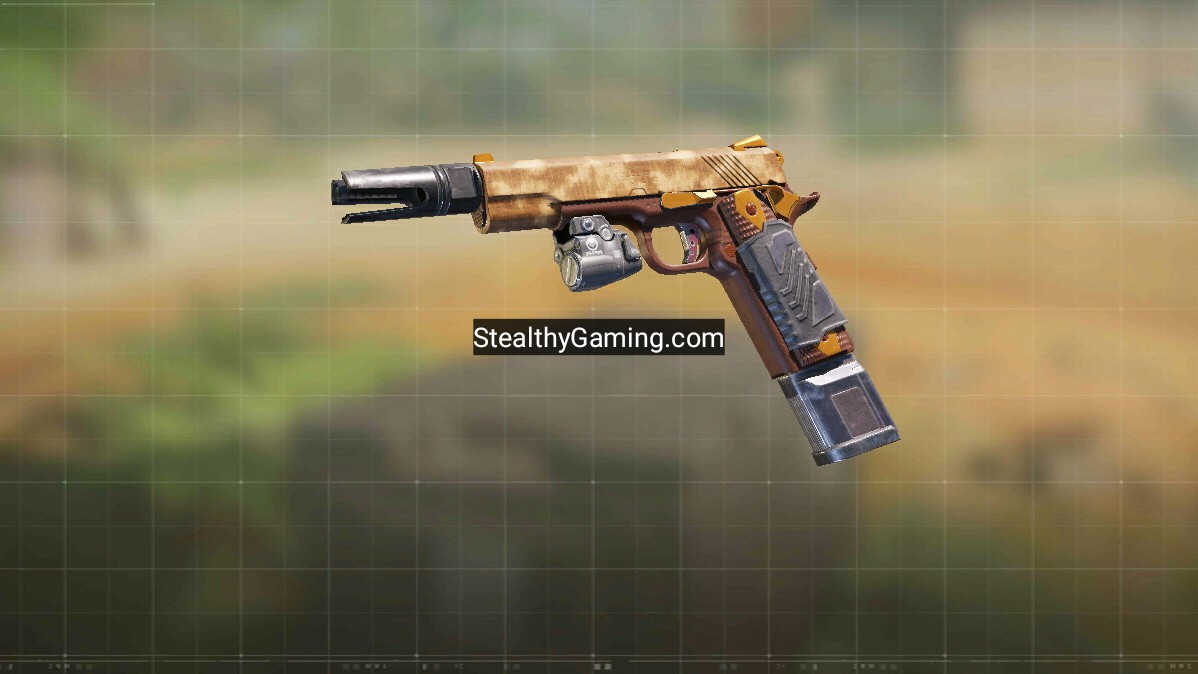 Also Read: COD Mobile MW11 Gunsmith Loadout
---
It is especially beneficial in maps like Summit, Crash, Rust, Nuketown, and in modes like Hardpoint, Domination. Be sure to give this loadout a try. You guys won't be disappointed.
---
Subscribe to our Youtube Channel. Follow us on Twitter & join our Telegram channel for more post-updates.
---
Check out GUNSMITH LOADOUTS here –
Abhigyan identifies himself as a tech geek, gaming cognoscenti, and also a connoisseur of music. Unidentified and mysterious phenomena never fail to gather his undivided attention. When not reading about bizarre and perplexing entities across the Universe, he can often be found cheering for his favorite teams in Football.