The Call of Duty Season 1 New Order is now running and live. As we speak hundreds of players worldwide are grinding more than ever to unlock the myriad of incentives that the Season 1 New Order has brought to the table.
With every Season, COD Mobile has made it a point to add new weapons and attachments. This has managed to keep such a huge fan following engaged with the game even after 13 seasons.
However, with the ever-increasing weapons arsenal, comes the tedious task of figuring out the best attachments for the weapon. So, we have been actively researching on creating 'purpose-oriented' Gunsmith loadouts for a weapon. Earlier in this series, we have mentioned the loadouts like "No Recoil' KN-44, 'Fast ADS' DR-H, 'Fast ADS' HG-40, and a lot more. Make sure to check all loadouts here.
---
Also Read: COD Mobile Outlaw Gunsmith Loadout
---
COD Mobile M21 EBR Gunsmith Loadout
M21 EBR is a semi-automatic sniper rifle in COD Mobile. Since it is a semi-automatic weapon, it has got a high rate of fire and quite decent control and stability.
However, since it is not as good as the other meta snipers, in this loadout we have primarily aimed to increase the versatility of the sniper and therefore give it an edge over other snipers.
In this loadout, we will be discussing the best attachments to increase the overall mobility of the M21 EBR sniper. This will help in quick scoping and taking out enemies in close combat. We also have equipped a 3x scope which will help in taking out enemies at a considerable farther distance too.
In a nutshell, this loadout will help in increasing the efficiency of the M21 EBR and making it the preferred weapon over other weapons of the same class.
---
Also Read: COD Mobile iFerg Locus Gunsmith Loadout
---
Best M21 EBR Attachments: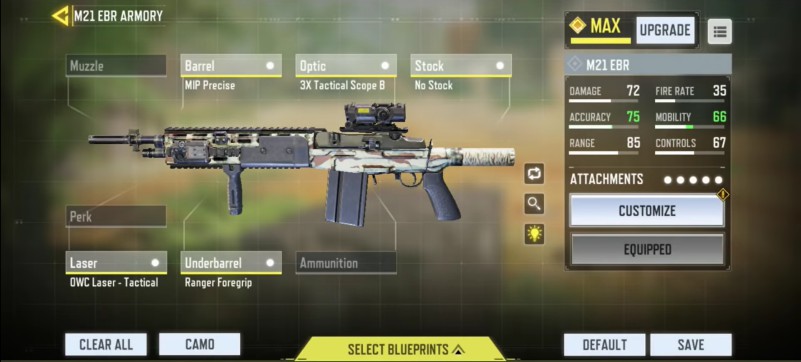 Muzzle – no change
Barrel – MIP Precise
Optic – 3X Tactical Scope B
Stock – No Stock
Perk – no change
Laser – OWC Laser -Tactical
Underbarrel – Ranger Foregrip
Ammunition – no change
Check out the stats for the Base Variant of the weapon for comparison: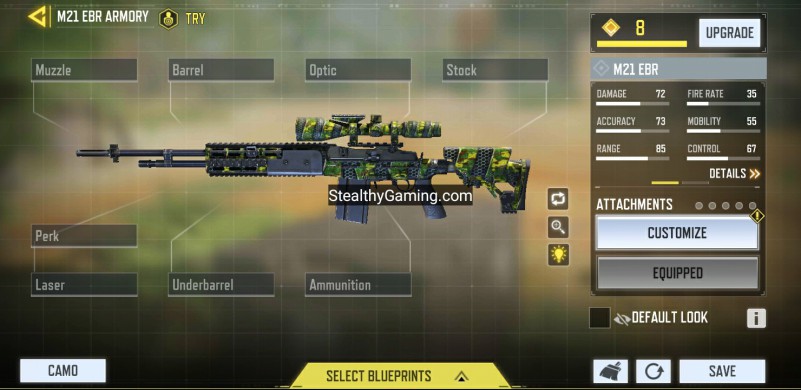 How to use Outlaw High Mobility Loadout:
Using a sniper during Close combat is quite difficult. However, with this loadout, we were able to increase the overall mobility of the M21 EBR. Combine the enhanced mobility with the semi-automatic nature of the weapon. We have got a really deadly weapon in our hands.
The High Mobility M21 EBR build can be used across maps like Rush, Crash, Summit, Firing Range. It is especially useful for modes like TDMs and Search and Destroys. Though it might take some getting used, once that is done with, the High Mobility M21 EBR will shred in the battlefield.
---
Subscribe to our Youtube Channel. Follow us on Twitter & join our Telegram channel for more post-updates.
---
Check out GUNSMITH LOADOUTS here –
Abhigyan identifies himself as a tech geek, gaming cognoscenti, and also a connoisseur of music. Unidentified and mysterious phenomena never fail to gather his undivided attention. When not reading about bizarre and perplexing entities across the Universe, he can often be found cheering for his favorite teams in Football.