Call of Duty Mobile's Season 13 has been truly awesome so far. In Season 13, a lot of new characters, weapons, modes, maps, and many more were carried along. We have had amazing activities such as the event On the Brink, the introduction of the second Mythic weapon, and much more. It has indeed been a great success, in short.
Yet it's almost time for the 13th season to end. The next season, which is Season 14th, is ready for players from all over the world. Season 14 is just around the corner with leaks, teasers, and videos flying around the atmosphere.
Before we get into today's discussion, we would like you to check out some of our best purpose-oriented weapons build like Long-range 'No-recoil' KN-44, High Mobility RUS, 'No-recoil' DR-H, and a lot more. Make sure to check all loadouts here. Having said that let's get into today's topic.
---
Also Read: COD Mobile: Attack of Undead with 20 Players
---
How to unlock Heartbeat Sensor in COD Mobile:
The Heartbeat sensor is an attachment that looks like a tablet and is held by the player in the hand. It uses the electromagnetic field created by the heart to pinpoint the location of enemy personnel. Enemies, as well as friendlies, appear as green dots.
The Heartbeat sensor is a game-changing scouting tool which most of the players are looking forward to being released into the game. Well from the looks of it in the Test Servers, the Heartbeat sensor is all set to roll out in the upcoming Seasonal update.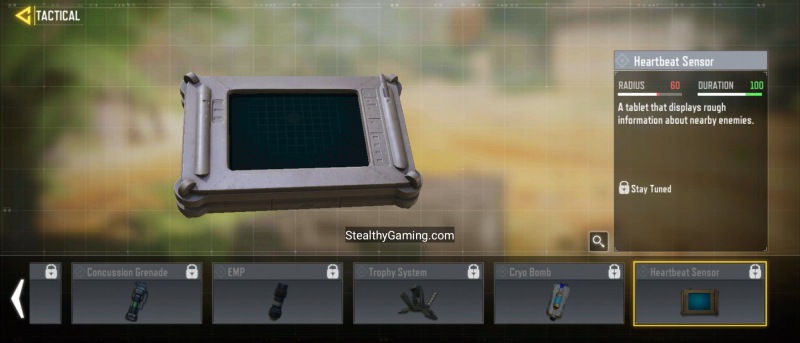 The Heartbeat sensor is going to be tactical equipment. So, players will have to sacrifice their go-to tactical equipment like the Smoke grenades, Concussion grenades, etc, if they wish to use the Heartbeat sensor.
Even after this, we speculate that most players will opt for the Heartbeat sensor because, with this device, players will no longer need the UAV as this will do the job of the UAV for them.
Also, unlike the UAV, players won't have to build their streaks to get this. This is a handy device that will be at the disposal of the players throughout the match.
So, judging by past experiences, we have reasons to believe that, COD Mobile might be planning to release the Heartbeat Sensor via the Seasonal/Featured events. Most-likely through the Seasonal events.
---
Must Read: COD Mobile Outlaw Gunsmith Loadout
---
So, to unlock the Heartbeat Sensors, players will have to grind and complete a set of requisite missions. Upon completion of those missions, the players will be able to get their hands on the Heartbeat Sensor.
That's pretty much it for the Heartbeat sensor. Until then keep grinding to max out all your weapons and unlock all camos.
Subscribe to our Youtube Channel. Follow us on Twitter & join our Telegram channel for more post-updates.
---