Last updated on February 22nd, 2021 at 10:53 am
After its debut, Call to Duty Mobile has become exceedingly popular. Mostly due to its vast arsenal of weapons. The multitude of weapons the game has generated was always enthralled by the call of duty mobile players. Call of Duty Mobile did not fail to deliver with Season 1 New Order.
Ever since the implementation of the gunsmith feature, players have sometimes found themselves perplexed in struggling to choose the best 5 attachments for their preferred weapons out of a choice of over 50 attachments.
That is where our team walks in. Earlier in the series, we have mentioned gunsmith loadouts like "No Recoil' KN-44, 'No Recoil' HG-40′, 'Fast ADS' Kilo, and a lot more. Make sure to check out all the loadouts here.
---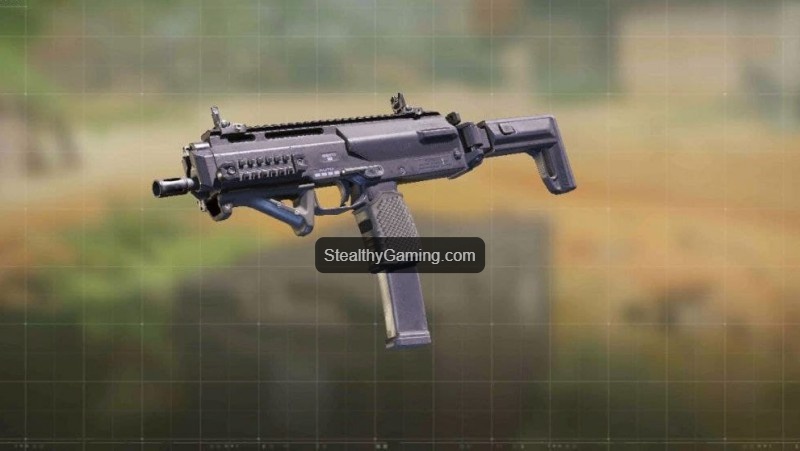 Also Read: COD Mobile iFerg QXR Gunsmith Loadout
---
COD Mobile iFerg Chopper Gunsmith Loadout:
We should also prompt you that no weapon is "Perfect". The effectiveness of the weapon depends primarily on the player. For instance, a player who enjoys taking an interest in the relentless short proximity fight, won't find a long-range weapon supportive and the reverse way around.
It is still prudent to have all weapons updated to the maximum as weapons are buffed and nerfed with each new season. Also, what's more, important is that you sculpt the weapon according to your gaming style.
iFerg is one of Call of Duty Mobile's best-skilled players. Since the days of yore, iFerg has played FPS games. Thus, he has learned how to gain crazy abilities and swift reflexes in the long term. His armed loadouts are often anticipated by most Call of Duty players
Today we will be taking a look at his chopper loadout.
---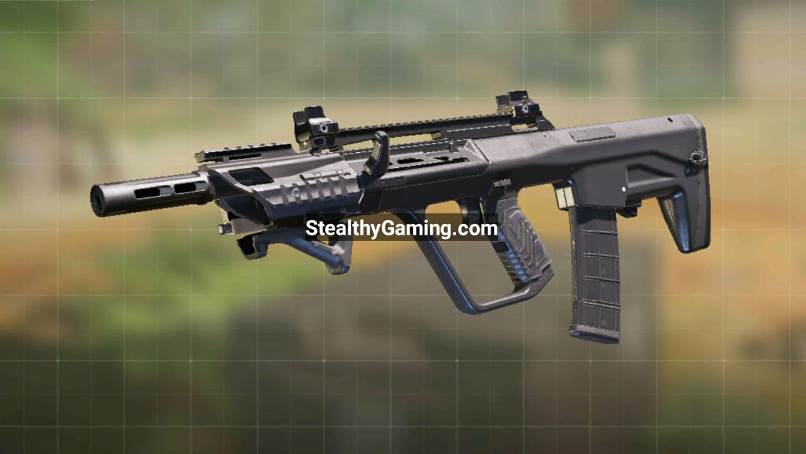 Also Read: COD Mobile iFerg AGR 556 Gunsmith Loadout
---
iFerg Chopper Attachments: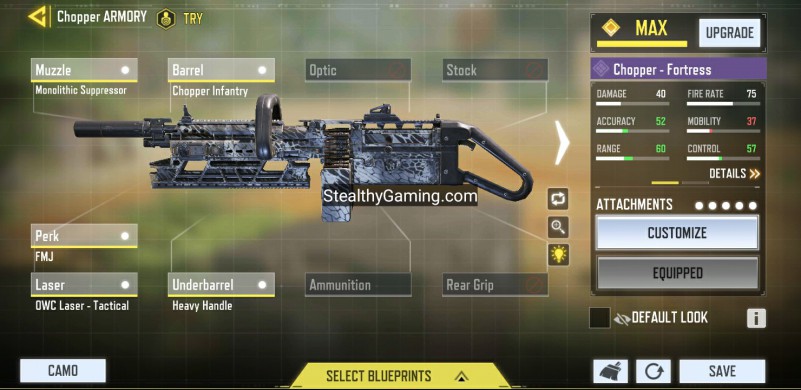 Muzzle – Monolithic Suppressor
Barrel – Chopper Infantry
Optic – no change
Stock – no change
Perk – FMJ
Laser – OWC Laser – Tactical
Underbarrel – Heavy Handle
Ammunition – no change
Rear Grip – no change
The above-mentioned loadout is primarily aimed to increase the stability of the Chopper by decreasing the recoil. This loadout could prove to be very beneficial in long-range combats. You can always hip fire for close-range combats. So, all in all, this would be a really versatile loadout.
---
Check out the weapon-stats of the base weapon for comparison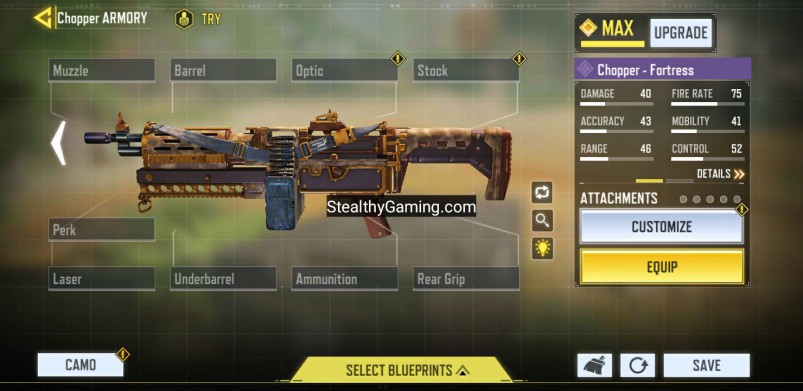 The Chopper, as considered by iFerg, is quite a competitive weapon in the game. It does indeed have the potential to be in the Top 5 weapons in COD Mobile. Although it is an LMG, it can still be used as a good gun and run weapon. The weapon is useful in close-mid-range combats. Hence the above-mentioned loadout in actuality aids in the hip fire and the ADS of the weapon for close to mid-range combat.
Make sure to check out these attachments and try them in the shooting range before playing in the ranked matches. We are sure Ferg's chopper loadout will not disappoint.
Subscribe to our Youtube Channel. Follow us on Twitter & join our Telegram channel for more post-updates.
---
Check out GUNSMITH LOADOUTS here –
Abhigyan identifies himself as a tech geek, gaming cognoscenti, and also a connoisseur of music. Unidentified and mysterious phenomena never fail to gather his undivided attention. When not reading about bizarre and perplexing entities across the Universe, he can often be found cheering for his favorite teams in Football.